This slideshow requires JavaScript.
The reward to clean living is feeling good. It's as simple as that.  My trip to Italy lasted beyond the time there and I spent much of the summer continuing to eat gelato and grains and other things that make me feel bloated, depressed and unsatisfied.
There are three things that help me follow the lifestyle I really want:
The (Right) Mindset
The (Right) Resources
Acknowledgement of how I'm feeling (and why)
I stopped my 3x weekly visits to Crossfit in May due to a combination of excuses. First, I sprained my wrist and was medically advised to not use it, especially for working out. Then, we went to my son's college graduation. My original goal for Crossfit was to look good in the photos for his graduation. (Check!)
Then I went to Italy. Then it was too hot. Now I'm too out of shape to go back! LOL. It's like straightening your house before the cleaning people come. I want "it" (the house, my body, etc.) to be somewhat presentable before the experts take a look.
Of course, I have to get my mind back in focus. I am getting there. I finally acknowledged that a lot of my physical complaints – upset stomach, gas, poor sleep, always hungry for one more taste – were due to my increased consumption of wheat and sugar (more specifically, chocolate). I knew I had to stop eating those items to feel better.
I was able to get back on track just by reading a new ebook for grain-free snack recipes, Ditch The Wheat. I have not made any of the recipes yet. But I have all (or most) of the ingredients already.  It made me realize "I can do this," and it's not that hard. The snack book is similar to one of my favorite books, Primal Cravings,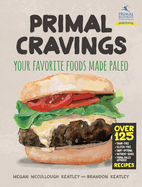 and has recipes for all types of snacks – sweet, savory, chewy, crunchy.  There's also an e-book with 70 grain-free desserts. The recipes do not overlap between the two Ditch the Wheat e-books. I would recommend buying both!
I bet you're wondering what about the "living" part of this post? This post seems to be about clean eating. Well, I finally dusted off my 10-minute kettle bell workout DVD this morning, and did 2 of the sets. YAY ME! Of course, I am so out of shape that I was wobbly picking up the morning paper off the lawn after that "little" workout. I am not belittling myself. I am getting back to the land of clean living, and taking proper care of myself once again.
Now I'm off to make some of those Ditch the Wheat recipes…that must be why I recently purchased the organic gelatin!!  Clean (living) gummy worms, anyone?